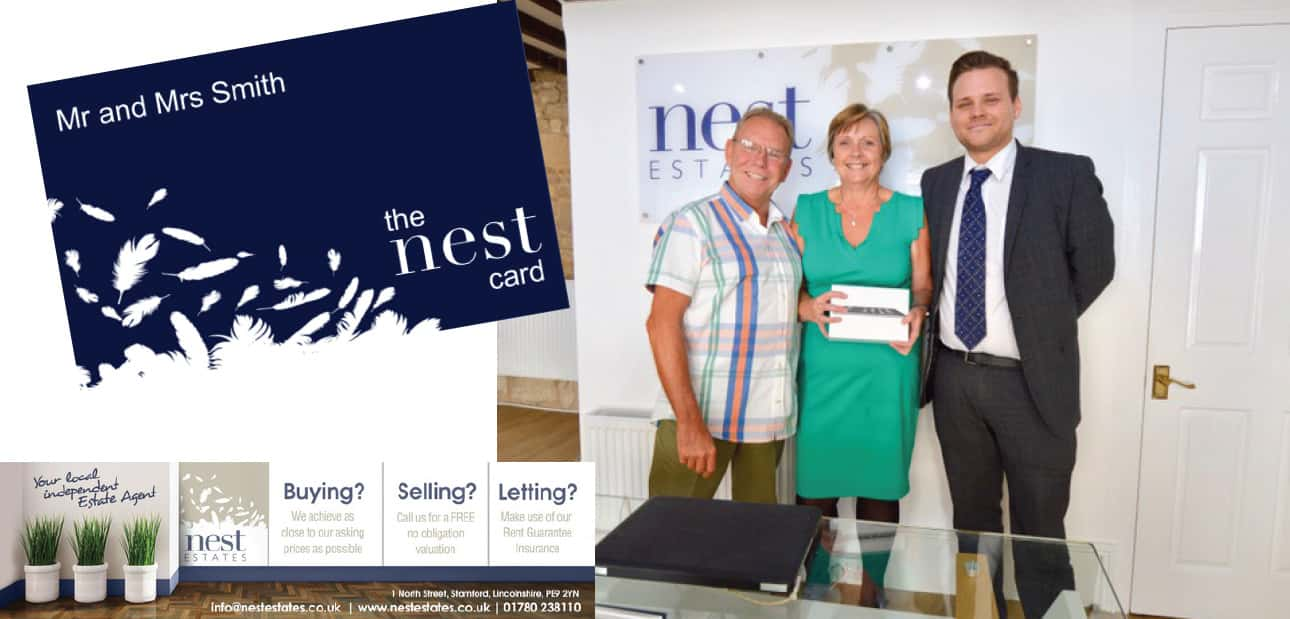 WHAT CAN THE NEST CARD DO FOR YOU?
Recommend Nest Estates and receive a £50 VOUCHER for Waitrose
Your card will Automatically enter you into a free prize draw four times a year for life
Preferential rates for repeat business for life
The Nest card can be used at a number of local businesses
OUR FIRST QUARTERLY WINNERS!
Mr & Mrs Knox
Why the Nest card?
We have been building up our local independent family run estate agency over the last four years striving to offer the best customer service and advice to our customers. We are celebrating the opening of our new office and as a thank you to our valued clients we have introduced the nest card. Anyone who has bought or sold a house with Nest estates in the last 4 years will be receiving the nest card within the next few weeks. Thank you for your continued support, our next prize draw will be just before Christmas.
Places to use your nest card
Hunters interiors
Number: 01780 757 946
website: www.huntersinteriorsofstamford.co.uk
email: This email address is being protected from spambots. You need JavaScript enabled to view it.
offer: 10% discount on all purchases
---
Anvils Interiors
Number: 01780 765696
website: www.anvilsinteriors.com
offer: Free Delivery & Free Assembly
---
Shades & Blinds
Number: 01780 765550
website: www.shadescurtainsandblinds.co.uk
email: This email address is being protected from spambots. You need JavaScript enabled to view it.
offer: Free Quotes
---
Cleanfresh - All types of Cleaning & general maintenance
Number: 07713 332257
website: under construction
email: This email address is being protected from spambots. You need JavaScript enabled to view it.
offer: Free Quotes
---
JW Plumbing-For all your plumbing requirements
Number: 07889 050 810
offer: Gas Safety Certificate £60+VAT
QKS LTD
Number: 01780 755855
website: www.qksstamford.co.uk
email: This email address is being protected from spambots. You need JavaScript enabled to view it.
offer: Pending
---
steeles removals
Number: 01780 763536
website: www.steelesremovals.com
email: This email address is being protected from spambots. You need JavaScript enabled to view it.
offer: Free quotes
---
IPLAN - architect
Number: 01780 767 088
Tim Musgrove
offer: Free initial consultation
---
Kent Blaxhill - Decorating Centre
Number: 01780 753822
website: www.kentblaxill.co.uk
email: This email address is being protected from spambots. You need JavaScript enabled to view it.
offer: 10% discount
---
Precision Landscapes
Number: 01780 721174
website: www.precision-landscapes.co.uk
email: This email address is being protected from spambots. You need JavaScript enabled to view it.
offer: Free Quotes